6YL-150 Screw Oil Press
6YL-150 Screw Oil Press
One. Main performance parameters:
1. Speed of press shaft: 35-39 rpm
2. Gearbox transmission ratio: 15/381552=1:8.78
3. Equipped with power: 18.5KW
4. V-belt: Type B
5. Dimensions: length x width x height 2000x680x1460 (mm)
6.Single machine weight: 830kg
7. Output: 10-13 tons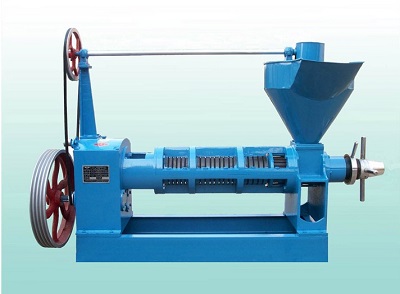 How to disassemble and assemble the 6YL-150 spiral oil press cage (including strips, round ribs, and bone rings): 
Capacity see table (1)
Table(1)production capacity
raw material

feeding per hour(t)

output per

100kg raw material

residue(%)

rape seeds

Hot pressing

9-12

30-38

7.5-8

Cold pressing

5-6

28-35

Ground nuts

Hot pressing

9-12

35-45

7

Cold pressing

5-6

32-40

Bean

Hot pressing

9-11

10-16

6.5-7

Cold pressing

4.5-5.5

8-14

olive

Hot pressing

9-12

27-33

6

Cold pressing

5-6

25-30

Cotton seeds

Cold pressing

5-7

10-14

5.5-6.5

2, Oration principle and structureNote : Figures shown above reflect performance when selecting ,separating,auxiliary facilities are available when manufacturing is rational.
2.1 oration principle
When oil presses operating prepared material enters extruding chamber from the hopper and then moves forwards by the rotating pressing screw and is pressed. Under the high-pressure condition in the chamber ,friction between material and screw ,between material and chamber will be created ,which also creates friction and relative movement among material particles. On the other hand, root diameter of the pressing screw caries larger from one end to the other ,hence. When rotating ,it not only pushes particles moving forwards but turns them outwards as well ,meanwhile ,particles adjacent the screw will rotation along with screw' rotating ,causing every particle inside the chamber to possess different speed. Therefore relative movement among particle creates heat which is necessary during manufacturing because of helping protein change property ,damage colloid ,increase plasticity ,decrease oil's elasticity ,resulting in high oil productivity.
2. Structure: The machine consists of five parts: hopper part, gear box part, press chamber part, screw press part and frame part: see figure
(One)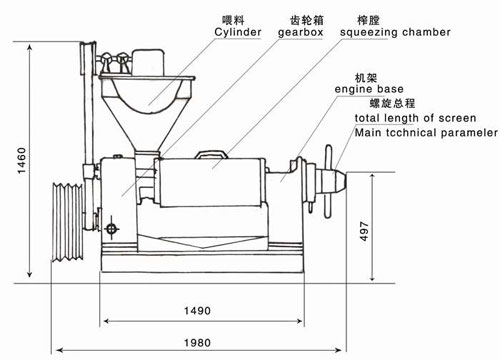 Pic(1)
3.Installment
The oil press must be installed by bolts firmly on the foundation and be kept horizontal
4.Lubrication
4.1 Oil press is lubricated by lubricating oil and grease, see table(2)
| | | | | |
| --- | --- | --- | --- | --- |
| NO | lubrication | lubricate | Time span | Lubricate replacement period |
| 1 | Adjusting bolt | Mechanical oil NO.20 | 1-2time/day | |
| 2 | Bevel gear | Mechanical oil NO.20 | 1-2time/day | |
| 3 | Bearing bush | Mechanical oil NO.20 | 1-2time/day | |
| 4 | Gearbox | Mechanical oil NO.20 | Refuel 12kg for the first time | Six months |
| 5 | bearing | Grease | | once a year |